Native Azaleas at Carolina Native Nursery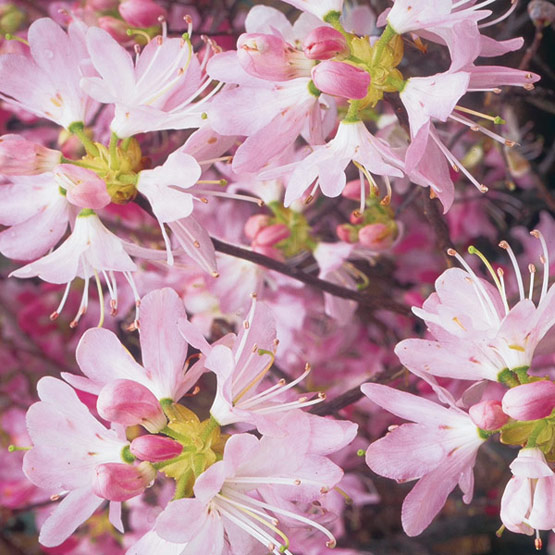 Azaleas are part of the rhododendron family. Genus name comes from the Greek words rhodo meaning rose and dendron meaning tree. Transferred from the Greek name for Nerium oleander.
Carolina Native Nursery is in the business of growing native azaleas. In fact, you can find a flame azalea blossom in our logo. It's been there since the beginning.  Over the years we have grown them from seed (still do), searched in vain for other growers that could meet our quality and quantity needs, asked for help from countless sources, and continued to work hard to meet our client's needs. As a result, we have certainly met a few obstacles along the way but have rededicated ourselves to produce the quality and numbers necessary to meet our client's needs. Carolina Native will be providing up to date information on the deciduous azaleas we offer for sale, our methods and time frames in growing them from seed, selections of plants identified and produced from others, and as much information as we can.
We think there should be native azaleas in everyone's garden. As far as we are concerned, these plants are truly the gems of our indigenous landscape. Plus, we know they have been 'transplanted' from many roadsides, woods, and forests into people's gardens as long as people owned shovels. Please leave these plants in the wild. If you are a native azalea enthusiast we have the plants for you.
Do you know where some native azaleas are?
Our staff collects seed and need more from as many sources as possible, please reach out to us. You can send us some seed too.  If you own nursery that is looking for native azalea liners, give us a call or send us an email. We want to supply you with some liners. For wholesale clients, we ship plants everywhere; from Atlanta to Maine, out to Lake Tahoe, even a box full to Shanghai for trials. Let us know what and where your needs are and we will try to help.
Here are a few links to some more information.
The American Rhododendron Society
Carolina Native's Azalea Cheat Sheet
Current Wholesale Availability
Open Letter to ARS to collect seed
We hope to hear from you as we build our information. Editorial comments are more than welcome. Our vision is to create the go to resource for everyone interested in native azaleas.  The staff at Carolina Native Nursery knows there are many folks that want to know more. We look forward to raising awareness, providing the plants, and helping get these plants in gardens, landscapes, and back in nature everywhere they have traditionally been found.