Carolina Native Nursery Staff
Carolina Native Nursery is located in Burnsville, N.C. in the Southern Appalachian Mountains 30 minutes north of Asheville and is staffed by a handful of native plant enthusiasts. Established in 2003, Carolina Native grows close to 200 species of Eastern U.S. native shrubs, perennials, ferns, and grasses. We specialize in indigenous Rhododendrons, Azaleas, and Mt. Laurels that we grow from seed. Carolina Native's clients include landscape architects, landscape design and installation firms, independent garden centers, commercial developers, and home gardeners that want native plants for their backyards. In fact, you can find our plants on the Biltmore Estate, in Central Park, on the Mall in D.C., at Monticello, and gardens both public and private from Atlanta to Maine. Plus, our retail area is open Monday – Friday 9:00-5:00. Please plan on coming to see us soon. Our staff is ready to help you with all your native plant needs.
Bill Jones, Founder & President
Bill is President and Founder of Carolina Native Nursery. He is responsible for the great staff at Carolina Native Nursery. Bill resigned from sales and marketing with AT&T in 1991 to be the founder and President of Terra Systems  in Charlotte, N.C. specializing in organic-based lawn and shrub care services.  Terrsa Systems was sold to Scotts. Inc in late 2001.  Bill is a member in good standing of The Sierra Club, The N.C. Nurseryman and Landscape Association,  International Plant Propagators Society, and the Asheville Rugby Club. He has served on the Charlotte Tree Commission, Earthday Charlotte Festival (chairman), the Asheville Tree Commission (chair for 4 years), the Strategic Planning Council for the N.C. Cooperative Extension Service for NC A&T University, and the Asheville Civic Center Commission. He has also served on the board of trustees for The Southern Appalachian Highlands Conservancy and Asheville GreenWorks.  Bill founded Carolina Native to aid in the preservation of the plants, birds, butterflies, bees, and the rest of the flora and fauna that make western N.C. one of the truly special places in the world.
Bill lives in Asheville with his wife Jill. His sons Will lives in Atlanta and Henry attends NCSU (go Pack).
Shelby Singleton Jackson, Horticulturist & Head of Sales
Shelby's responsibilities include better client relations, increasing awareness of plant availability, and sales. As importantly, her eye for overall plant quality demanded at superior garden centers, high-end landscape design and installation firms, and landscape architects is essential to Carolina Native's continued success. She joined us in 2010 and became part owner in 2014.
Shelby, a University of Tennessee Horticulture alumnus, came to us after 3 years as Nursery Sales Manager at BB Barns in Asheville. She brings extensive knowledge to our staff in native plants, as they are one of her passions, and also well beyond the shrubs that we currently offer. Her experience besides sales includes speaking and leading seminars, horticultural research in the field and the laboratory, landscape design and consulting. She is an N.C.N.L.A. Certified Plant Professional. She has served on the Hendersonville Tree Commission and is currently on the Horticulture Technology board at Blue Ridge Community College. She also participated on the board for her local greenway, Friends of Hominy Creek Greenway, in West Asheville.
Shelby currently lives in Asheville with her husband Jonathan and dogs (Lilly and Pele).
Alisha Conde, Nursery Manager
Alisha Conde is the Nursery Manager at Carolina Native Nursery. She is an alumnus of Ohio University who earned a B.A. in Applied Plant Biology in 2015. She joined Carolina Native Nursery in the spring of 2019. She spent time in Newport News, Virginia working with native plants as the Horticulture Specialist at the Virginia Living Museum. There she was assigned with growing plants for native plant sales and for enhancing native animal exhibits within the museum. She has also been a landscaper, school garden program coordinator, and an intern at United Plant Savers.
As Nursery Manager at Carolina Native, Alisha is in charge of plant propagation and production, including seed collection and processing, irrigation, I.P.M., nursery personnel, and more.
Alisha moved to Asheville in 2018.
John Benner, Retail Specialist
All of our retail clients have met John Benner. He manages our retail area. John brings over 30 years of garden center experience to Carolina Native. We met John years ago as we made deliveries to Feed Seed in Weaverville, N.C. for their retail and landscaping divisions. He has been with us over 6 years, has done about every job there is to do, now has run of the nursery to bring the best we grow to our retail sales area. He enjoys sharing his extensive plant knowledge with all his clients. Please plan on coming for a visit.
John lives on a small farm in Mars Hill, N.C. with his wife Marie.
Rob Ray, Construction and Maintenance Manager
Rob joined Carolina Native in 2009 and is a native of Burnsville. He is longest serving member of the staff at Carolina Native. Since then, he has been an integral part of Carolina Native's continued expansion. His responsibilities include greenhouse and cold frame construction, irrigation construction and maintenance, facilities and equipment maintenance, and much more. Around the plants, Rob prunes, is vital in seedling production, aids in development of potting up and other SOP's, and helps in pulling orders and delivery.
Gabrielle Rathmell, Horticulturist & Sales
Gabrielle (Gabby) is a new addition to the Carolina Native team, joining in the spring of 2022. Originally from Chicago, IL, Gabby ventured south to explore her passion in botany and horticulture. She graduated from east Tennessee's Maryville College in 2019 with a Bachelor's Degree in Design with environmental sustainability. She currently is attending Blue Ridge Community College in pursuit of an Associate's Degree in Horticultural Technology. Her focus is the importance and incorporation of native plants for ecological restoration as well as their aesthetics that make each place they're home to unique. Prior to her work at Carolina Native, Gabby worked at Friendship Park Conservatory in Chicago, the North Carolina Arboretum and in the landscaping industry.
Olivia Campbell, Perennial Nursery Manager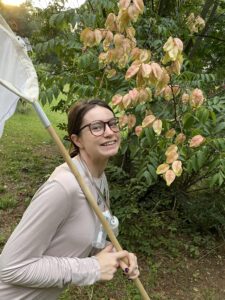 Olivia joined the Carolina Native Nursery team as the perennial grower in early 2023. She grew up in Greenville, South Carolina, and is a graduate from Clemson University (go tigers!). While earning a bachelor's degree in Horticulture and a minor in Biological Sciences, she completed an assistant grower internship at One Floral Group and a rotational internship at Walters Gardens. During these internships, she assisted in their tissue culture lab, virus lab, I.P.M department, as well as greenhouse/field operations. Furthermore, Olivia was a part of both the Horticulture and Entomology clubs at Clemson University. She also worked at Lichtenfelt's Nursery prior to her work at Carolina Native Nursery. Her responsibilities as the perennial grower include irrigation, fertilization, I.P.M., managing the perennial inventory, and more.
Olivia recently moved to Asheville and is enjoying exploring the surrounding flora and fauna. Her love for hiking led her to discover a deep passion for plants and the many facets of nature. Other hobbies include spoiling her fur baby and spending time with family. Also, she is an avid reader and enjoys snuggling up with a good non-fiction book.
Patrick Stevens: Assistant Nursery Manager
" Patrick joined the team in the spring of 2022 and is now the Assistant Nursery Manager at Carolina Native. His primary duties revolve around plant production, heading the seasonal potting crew, and tending to the shrubs across the nursery. But you can also find him constructing greenhouses, coldframes, and various other maintenance projects as needed.  He's often described as a modern Renaissance man around here.
Originally hailing from Maine, Patrick and his wife, Tarah, have lived in the WNC area for most of the last decade. They raise their three daughters on a small homestead in Burnsville with a plethora of furry and feathered friends. Patrick has a background in urban agriculture farming and culinary arts, which led to a passion for sustainable agriculture and native plants.  From tree planting and sustainable trail building in Maine to plant wrangling in the mountains of North Carolina, he consistently strives to grow his knowledge with Carolina Native Nursery in the future.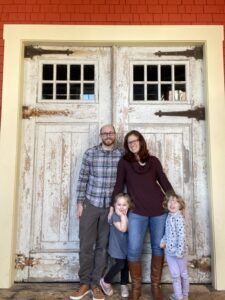 Patrick with his family