Newsletter: Volume 11 Number 4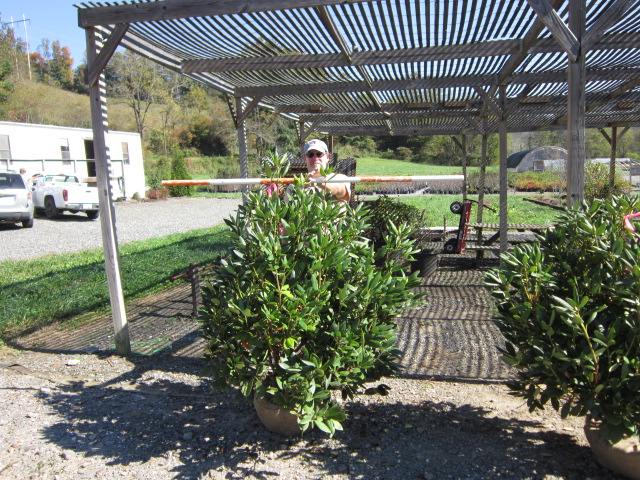 Happy Holidays!   Newsletter Volume 11, #4
 Trade Shows
If you are attending, please make plans to stop by and say hello!
MANTS  'The Masterpiece of Tradeshows'
January 8th-10th  Baltimore Convention Center
Booth 2222-2224   Same as Always
 Green & Growin'
January 15th-17th Greensboro Convention Center
Same as last year  Booth 1218
 New England Grows
Feb. 5th-7th    Boston Convention Center
Booth 937 
American Holly Ilex Opaca
Carolina Native Nursery has been growing American Holly, straight species Ilex opaca for a number of years. After trying to find the liners on the market and having no success, like many of the native plants we specialize in, we had to try for ourselves. 
We started with some seed harvested locally, actually in Bill's back yard, cleaned and sowed them. Sure enough, in the spring two years later they came up. Transplanted into rootmaker cell flats; off they went. We did some research, took some cuttings the next fall because they needed pruning anyway, and stuck them. The young cuttings, on bottom heat, rooted well. We were off. Those initial plants are now in 7 gallon cans, 4-5' tall, and are ready to sell ($39).
We continued to sow seeds and have taken cuttings and are looking forward to more coming on.
This fall we branched out. With permission from Clara Curtis at the N.C. Arboretum, we took cuttings from their collection of named varieties to try our luck. So now on the heated benches in the greenhouse we have Clarendon's Spreading, Jersey Knight and Jersey Princess, Merry Christmas, Miss Helen, Dan Fenton, Satyr Hill, and a yellow berried variety, 'xanthocarpa'. So far so good, all have calloused and the Dan Fentons are already rooting. We tried hundreds and hope to have everything right. Our only concern is the age of the mother plants. If we can get these to work we will take cutting from the younger plants grown from this effort and will soon have larger hollies for sale. Please let us know if you are interested.
Lean For Dummies
Carolina Native Nursery is always looking for better ways to serve our clients. The best way we can do this is by providing them with the best plants we can possible grow. While spending an afternoon this summer with Steve Castorini at his place, NorthCreek Nurseries, we couldn't help but ask questions about what he was up to. He talked about going lean and a little about efficiency, the Toyota Way, customers, and quality. So our journey began. Thanks Steve!
We bought a book, we can't afford consultants. Lean for Dummies by Natalie J. Sayer and Bruce Williams. The bottom line is we need to change our culture to try every day to improve. Little by little, step by, step, we are examining everything we do. Continuous improvement of everything we do to grow better plants, serve our clients efficiently, work with our partners better, and have our employees empowered to learn more, try more, and speak up with suggestions and concerns.
Here are some of the things we have already done.
Built a new, large sifter because we like pine bark fines for our cell flats to grow ericaceous plants. It looks like it cuts the time to fill flats by 75%
Built tables in both our propagation facilities as well as our liner houses. Doubled our heated propagation tables. All the flats are now off the ground. Much easier to handle, keep the flats clean, and easier on everyone's back.
Reviewed and streamlined our propagation procedures. That include cross training our staff. We tried it out on Ilex opaca cuttings we recently did. Having all the flats prepped and on the tables, cuttings all taken, then experimenting with prepping, dipping, and sticking, we were shocked. The amount we got done in a short amount of time was impressive. Reviewing, adjusting, writing it all down, and reviewing again.
Setting azalea and rhododendron seed procedures were all reviewed and streamlined. We are currently developing a timeline, spray schedules, and equipment. By the way, the seed is sprouting after 2 weeks, very exciting.
Adding shelves for the liner trays to our potting wagon. This will ergonomically help us pot quicker, as will consolidating and centrally locating where the empty pots, fertilizers, and other potting up materials.
Looking at our order taking procedures and computer programs. We are investigating merging invoicing with our client databases so we will all have your information at our fingertips, both in the shop and on our mobile phones.
Carolina Native is on the move. All these efforts are to provide better plants and service to our clients. If you have any suggestions, please let us know.
New Website Launched
Carolina Native Nursery, with the expert help of Firefly Design, has successfully completed a redesign of its website. We are very excited.
Now we have to become experts in adding content, pictures, articles, and more. Based in WordPress, we understand that it will be much easier for us to learn. We are working hard to get everything posted and up to date.
Tons of new pictures are available in the galley. We are trying to set up the gallery so it is easy to navigate and find the plants you are looking for. And we will be adding more as we are out in the fields this fall.
Please take a minute and surf on over: www.carolinanativenursery.com. Let us know if have any suggestions, don't be shy.